Search by SHAPE
Search by MAKER
Featured
New Arrival
How to Buy
Five steps to get a Japanese car!
Step1: To Choose
Go to PROSPER's order form to order your car
1. Have not decided which car? Go to Full stock list
2. Do not know the exact model? Go to the details as below;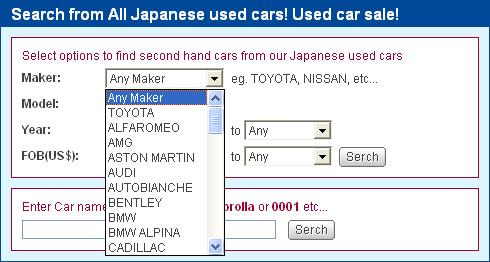 3. Want to know more details? Click photo or ID.
Step2: Order
Go to PROSPER's order form to order your car
1. Proceed to order form
Click the picuter of the car you want to buy.
2. Decide final destination country and country with the port
Shipping cost will be showed on the bottom of the page.
3. Decide options
Warranty(US$100)
4. Check the Total cost you are going to arrange.
5. Submit your Order
Now, you know the car condition and total cost to remit.
6. Print your proforma invoice out
Click " Print " .
If you still have questions, Contact us
Step3: Pay
1. Terms of Payment: Payment in full in Advance.
100%TT
2. How to transfer your money
Telegraphic Transfer
3.Where to send the payment:
Bank name TOKYO-MITSUBISHI UFJ
Bank address 48,Akashi-cho,Chuoh-ku,Kobe-shi,Hyogo,650-0037,Japan
Swift code BOTKJPJT
Branch Kobe
Branch code 581
Account number 2605176
Account name Prosper Co.,Ltd

Please give us the bank receipt or TT copy by e-mail or fax (+81-34-578-0399) .
After we confirm your payment, we will start to booking ship.
If your payment has not been received in time, or your car is not available.
we refund your money or you could choose the car from our stocks for the same value.
Step4: To Ship
We will do the booking and all the documents.
1. Shipment
2. Required Documents to receive your car
We will send you the following Documents after the departure of the vessel.
All the documents required when you receive your car are the following package.
Invoice
Bill of Lading
Other documents (depend on your country's regulation).
Step5: About Custom Clearance
Please submit the shipping documents to the shipping company for the Custom Clearance.
After you get the customs clearance done, You can get your car !
We waitng your thanks mail ! Contact us
Refer to our claim clause for details.